MCCONE COUNTY HEALTH CENTER
CIRCLE, MONTANA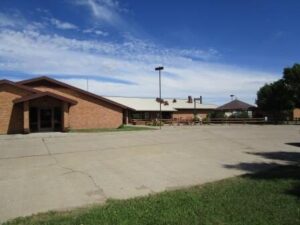 McCone County Health Center, a non-profit organization, is a frontier Critical Access Hospital (CAH) and clinic in Circle, Montana that provides healthcare services to our community and surrounding areas.  MCHC is owned by McCone County.
McCone County is located in a remote section of Eastern Montana. McCone County is mostly agricultural land and has a population of approximately 1,734 spread over 2,643 square miles. McCone County has a population density of .6 per square mile and is designated as a Primary Care Health Professional Shortage Area. Circle is the county seat and other towns in McCone County are Vida and Brockway; Circle's population is approximately 611.
McCone County Hospital was established in 1923 and McCone County Nursing Home was established in 1977.  McCone County Hospital closed in August of 1990 and MCHC became the 1st Medical Assistance Facility (MAF) in the nation, which included participating in the MAF demonstration in the early 1990s.  The MAF project was a Medicare demonstration project started in Montana and led to what we all know today as the CAH designation.
On April 1, 2009, MCHC terminated our nursing home license and became a 25 bed CAH.  In August of 2016, MCHC was selected by the Centers for Medicare and Medicaid Services to participate in the Frontier Community Health Integration Project (FCHIP) 3-year demonstration. The FCHIP allowed us to increase our beds from 25 to 30.
MCHC provides healthcare services to our community and surrounding areas.  MCHC also owns and operates McCone Clinic, which is attached to MCHC. MCHC has 55 employees.
MCHC Mid-Level Providers do it all…clinic, emergency, acute/skilled hospital and long-term care services. CAH services include: Inpatient, Outpatient, Emergency, Acute, Skilled Nursing Facility, Nursing Facility (Long-Term Care), Observation, In-Patient Pharmacy, X-Ray, Laboratory, Physical Therapy and telehealth.
MCHC has been awarded grant funds from the Helmsley Charitable Trust which helps offset the expenses of providing Avera eEmergency services; which has been utilized at MCHC since February 8, 2017.  eEmergency provides MCHC with access to a Board Certified Emergency Room Physician via telemedicine. eEmergency gives rural providers better access to professional colleagues—a second set of eyes and ears to help remote providers with the wide variety of situations they encounter.
The closest hospital to MCHC is a CAH 45 miles away in Glendive, which has a population of nearly 9,000. The closest tertiary hospital is in Billings, 250 miles away. Our local volunteer ambulance service also transports patients to a CAH in Miles City which is 97 miles away.
MCHC's medical providers' initial patient evaluations determine if a patient can be treated locally or needs to be transported via ground or air ambulance to a larger CAH in Eastern Montana or a tertiary hospital in Billings.
MCHC contracted services are provided by:
Pharmacist from Fort Peck and has been our pharmacist for over 23 years;
Billings Clinic for radiologist, reference lab, computer support and group purchasing services; and
Glendive Medical Center for dietician and physical therapists.
McCone County Health Center's healthcare services include the following:
Licensed as a 30-bed Critical Access Hospital (CAH) of which 25 beds may be used interchangeably for acute or swing bed services (Skilled Nursing Facility and Nursing Facility) in the CAH Swing Bed Program. MCHC has access to approximately 25 beds for our long-term care residents; and has observation beds too.
McCone Clinic is a family practice and staffed with Mid-Level Providers.
Laboratory Department has two Clinical Lab Scientists and is a full-service laboratory; and MCHC contracts for reference lab services.
Radiology Department utilizes licensed Limited X-Ray Technicians and Rad Techs. The X-Ray Department is directly linked to Billings Clinic for all radiology over-reads.
Contracted Physical Therapy services, In-Patient and Out-Patient.
Telehealth services allow the patient advanced care on-site at McCone Clinic. In addition, telehealth allows MCHC to provide high quality education to employees, Emergency Medical Services volunteers and patients.
Avera eEmergency Services provide immediate access via telemedicine (video) to board-certified emergency medicine physicians.
Vscan with Dual Probes Ultrasound System provides a non-invasive look inside the body, with both shallow and deep views, that helps speed diagnostic decisions for a wide range of clinical applications.
Accuvein vein illumination device shows a real-time projection of the patient's veins on the surface of the skin for clear vein targeting.
Provides patient and community education; which includes smoking cessation, diabetic education, community suicide awareness and stroke awareness.
IV therapy and treatment services to local post-surgical patients.
Local cancer patients the convenience of receiving selected chemo-therapy services.
Charity care is offered through the federal program Hill-Burton in our CAH.
Medical equipment is loaned out at no cost.
By:  Patricia A. Wittkopp, PA-C 
By:  Beth Conroy, RN, Former Director of Nursing